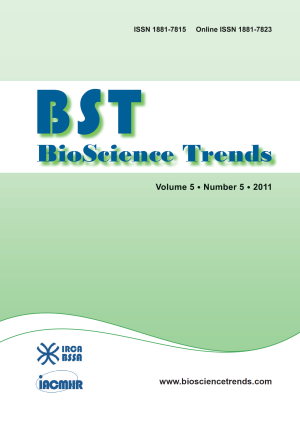 Issues/Year: 6
Print ISSN: 1881-7815
Online ISSN: 1881-7823
CODEN: BTIRCZ
Impact Factor 5.5
CiteScore: 10.7
BioScience Trends
is one of a series of peer-reviewed journals of the International Research and Cooperation Association for Bio & Socio-Sciences Advancement (IRCA-BSSA) Group. It is published bimonthly by the International Advancement Center for Medicine & Health Research Co., Ltd. (IACMHR Co., Ltd.) and supported by the IRCA-BSSA.
BioScience Trends
devotes to publishing the latest and most exciting advances in scientific research. Articles cover fields of life science such as biochemistry, molecular biology, clinical research, public health, medical care system, and social science in order to encourage cooperation and exchange among scientists and clinical researchers.
BioScience Trends
publishes Original Articles, Brief Reports, Reviews, Policy Forum articles, Communications, Editorials, News, and Letters on all aspects of the field of life science. All contributions should seek to promote international collaboration.
Indexing/Abstracting
Listed in bibliographic services, including:
PubMed
| US National Library of Medicine
Web of Science
| Clarivate Analytics
Science Citation Index Expanded
| Clarivate Analytics
Journal Citation Reports
| Clarivate Analytics
Chemical Abstracts Service
| American Chemical Society
Scopus
| Elsevier
EBSCO Information Services
National Diet Library, Japan
Japan Medical Abstracts Society
JDream III
J-GLOBAL
Editorial and Head Office:
Pearl City Koishikawa 603
2-4-5 Kasuga, Bunkyo-ku
Tokyo 112-0003
Japan
E-mail:

IRCA-BSSA Group Journals